#marketgarden @pondhillfarm.pa
CSA membership currently available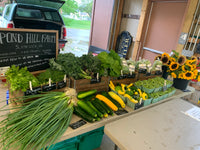 Proud of the way we grow.
Pond Hill Farm is a small bio intensive market garden. We supply fresh nutrient dense vegetables and fresh cut flowers to various Pittsburgh communities.
We know that agriculture has huge impacts on personal and ecological health. Our actions can help heal/hurt Mother Earth. We practice by nurturing the soil which then provides us with the best quality produce. We follow many certified organic practices. 
Location
Our store
1172 Freeport Rd
Kittanning, PA 16201
We are open by appointment only, but can always use a helping hand. Let us know if you would like to come volunteer for a few hours and see the farm!